Microwave solutions
... at locations where classic leased lines reach their limits due to the required bandwidth or in connection areas not equipped for DSL or other high-capacity connections.
Basically, radio waves propagate in a straight line in the frequency ranges used, which is why the required antennas must generally be in one line of sight. Microwave antennas, on the other hand, facilitate wireless data transmission between two fixed points over long distances by bundling the transmitted data and shielding it against interference. This enables implementation even at greater distances without the direct line of sight.
Point-to-point via microwave is, therefore, suitable for companies that:
Seek to connect neighbouring sites without having to install multiple fibre connections
Require very high bandwidths
Do not have fibre connections between the buildings
Require good and guaranteed availability
Place special emphasis on media redundancy, another option alongside glass fibre
Need a quick implementation without long planning application times
Therefore, a microwave solution is an ideal transmission medium, especially in places where a fibre optic network isn't sufficiently developed, for example, in rural areas.
The signal transmission of a microwave link can take place via an optical microwave or a standard microwave.
The digital data is transmitted using laser links, whereas with a standard microwave, the signal is transported via electromagnetic waves.
The deployment options of a microwave solution include the following:
Site connection
Last mile building connection
Data centre coupling
Video monitoring
Network expansion and broadband roll-out for ISP/telecom providers
Campus area
Wide area network
Smart farming
Due to the wide range of possible applications, microwave solutions are suitable for almost every industry, including:
Industry, commerce, trades
Authorities, administration, public institutions, town halls
ISP/telecom providers
Financial service providers, insurance companies, law firms
Logistics
Military, police, fire brigades
Hospitals, medical practices
Schools, universities, research institutions
Business premises
Agriculture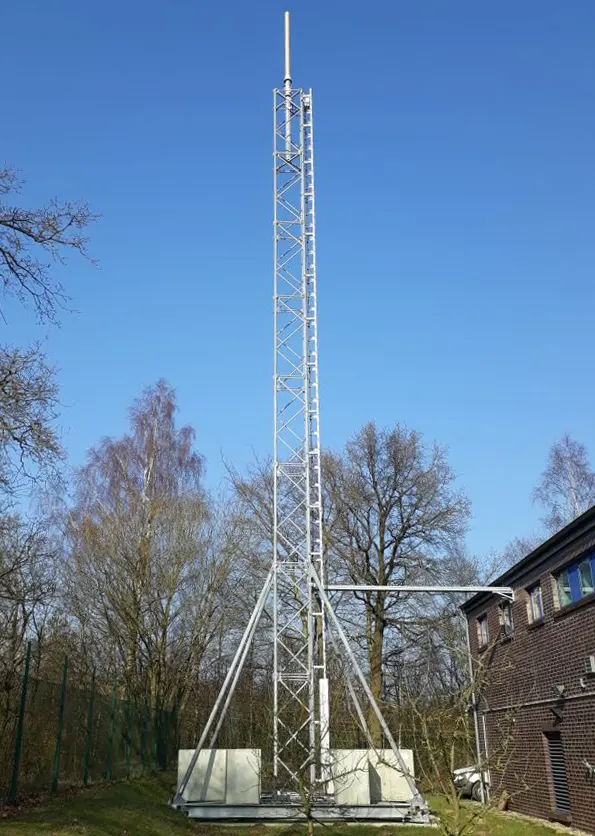 Advantages of a microwave link
Economic impact
Using a microwave link can save costs for existing leased lines or help avoid investment costs for constructing a new fixed network line.
There are comparatively low one-off investment costs and annual maintenance costs.
Sustainability
An installed microwave link has a long service life.
If the conditions remain the same, these connections have a life cycle of well over ten years.
No preparatory work necessary
No infrastructural preparations thanks to wireless transmission.
Short commissioning phase
After clarification of all contractual and licensing issues, the installation and commissioning phase takes 2-3 days.
Subsequently, the connection is immediately available.
Flexible range
Our microwave products can be used flexibly at different distances up to the connection point, depending on building heights, structures, and height differences in the terrain.
Minimal impairment due to weather
The stability of a microwave is very high when extreme weather conditions are taken into account and is approx. 99.995 %.
With its licence-free and licensed radio relay solutions, IMS Kommunikationstechnik GmbH from Leipzig offers low-cost and high-quality products for bandwidths from 10 to 10,000 Mbit/s.
To do this, we first survey the possible locations with you to find the optimal microwave and check the line-of-sight between the locations to guarantee excellent transmission quality, reliable availability and high speed.
In the run-up to product selection, the following factors are taken into account:
What is the distance between the antennas?
What is the desired bandwidth?
What do you plan to transfer? (data, speech, video signal)
How high is the building or mast in question?
In addition to primary data transmission, microwave solutions are excellently suited as a backup solution in conjunction with an existing fibre optic leased line, which we would be happy to implement for you. Protected microwave solutions are also possible.
Our microwave experts will be happy to advise you personally!
Contact person
Patrick Rechlin
Head of department
Phone: +49341 – 2269 10 67